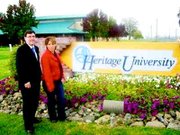 Heritage University junior and Sunnyside resident Yerania Espindola was recently named a winner in the New York Life Insurance Company's 10th annual College Agent Intern Program summer sales contest.
Espindola was one of four interns to submit the highest number of new applications for the purchase of an insurance product during this past summer. She earned top honors, selling the highest number of life insurance product applications overall.
As a result of her achievement, the insurance company will fly her to its headquarters in New York City this coming January.
Espindola will meet the agency department's senior management team, receive a tour of the headquarters building and meet other people working behind the scenes at New York Life Insurance Company's home office.