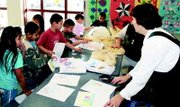 Yakima book store helping improve literacy in Sunnyside
Students at Chief Kamiakin Elementary School in Sunnyside recently received books through a literacy partnership between Borders Books in Union Gap and ESD 105.
The book store has an annual book drive. This year it was from April 13 to May 3, and working with ESD 105 decided to donate them to migrant students.
Michelle Lara manages the Union Gap store and says the idea of donating new books to migrant students was a hit with customers.
A total of 544 books valued at $3,500 were donated. The books at times were donated at a rate of 50 or 60 volumes per day in contrast to previous years that saw donations average 50 books per week.
"We wanted to provide the books to a program that was most aiming at what we were looking for," said Lara. "With the migrant program students, there are a lot of the folks who can't afford the books and don't have them in their home."
Thomas Romero directs ESD 105's migrant education regional office in Yakima, and he said the book donations have inspired a new literacy program for migrant students.
Called "LOL - Love of Literacy," Romero said the books are being distributed free to migrant students, like those at Chief Kamiakin, who make a commitment to a lifetime of literacy through creating essays and posters.
"Often because of the migrant lifestyle, there's not a lot of literature in the home," says Romero. "So what we want to do is foster a love of literacy in those families so that when they move, kids can be continually engaged in reading and parents can participate by sharing and reading books with their kids, as well."
About 90 percent of the books donated are in English.
If the project can continue into future years, Romero says he would like to eventually create a database to help determine what types of books are needed for migrant students in the area.