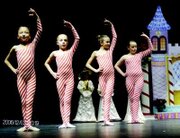 Dancer's from Nicole Moscou's Prosser School of Ballet are readying themselves for the 2008 production of Tchaikovsky's Nutcracker, with performances slated for this coming week, Nov. 21 and 22, at the Sunnyside High School auditorium.
"It's a magical production," promises Moscou. "It'll get you excited about Christmas."
Heralding in the holiday season by viewing a Nutcracker performance is something Moscou's done ever since she was a little girl, and now she's making it possible for Lower Valley residents to enjoy as well.
The story is about a girl who, at her parent's Christmas party, receives a nutcracker as a gift. When she goes to bed that night, she dreams the nutcracker comes to life and saves her from an army of mice. He then turns into a prince and whisks her away to a land of sweets, which is inspired by candy. Then, each little candy performs a dance to honor the prince and the girl.
The cast features about 50 dancers and actors, including Kate Burnett as Clara, the little girl. Katherine Ammerman is her understudy. Anne Bowen is cast as the lead sugar plum fairy, with Cary Esty as her understudy.
The cast has been rehearsing since August for the Nov. 21-22 performances.
The Prosser School of Ballet has presented the Nutcracker in previous years. But, says Moscou, "If people have attended our production in the past, they will enjoy it this year, as most of the choreography and costumes and a lot of the set is brand new."
And, many of the dancers in the 2008 cast have participated in all of the previous years.
Performance times are 7 p.m. on Friday and 3 and 7 p.m. on Saturday. Saturday afternoon's Nutcracker will highlight the understudy casting.
Cost to attend is $12 for adults and $8 for children 12 and under, as well as seniors.