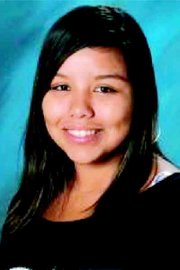 Sunnyside police are still looking for 14-year-old Francisca Hernandez Ramirez of Sunnyside, who was last seen Oct. 20, 2008, and now believe her to be in danger.
Charlotte Hinderlider, an administrative assistant to the police chief, said the current investigation is leading detectives to believe Ramirez is in danger.
Ramirez is 4'10" tall, weighs 100 lbs., and has brown hair and brown eyes. She was last seen Oct. 20 in the Outlook/Sunnyside area.
Police say there is currently a felony juvenile warrant for her arrest for failing to appear at a court date.
People with any knowledge or information about this are asked to call Sgt. Oliver Hernandez at the Sunnyside Police Department at 836-6200.
&nbsp