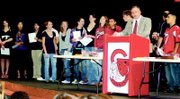 A sports award ceremony for Sunnyside High School's fall athletes showed that students are not only making progress on the field of play, but making the grade in the classroom as well.
During a presentation at the Tuesday night event, Athletic Director Bill Daley noted that 97 of the 203 students who turned out for fall sports posted a GPA of 3.0 or better, and 35 had a GPA of 3.7 or better.
The numbers mean that 48 percent of all fall athletes were at 3.0 or better and 17 percent posted a GPA of at least 3.7. Those compare favorably, Daley noted, to this past spring, when 37 percent of athletes earned a 3.0 or better GPA and 11 percent a 3.7 GPA.
Rally students earning a 3.7 or better GPA were Avalon Valencia and Rachel Romero.
In football, Andrew Daley, Emmanuel Gomez, Emmanuel Tejeda, Fernando Madrigal, Humberto Mejia, Juan Chavarin, Daniel Chavez and Juan Reynosa all posted a GPA of at least 3.7.
Volleyball athletes reaching the 3.7 or better mark were Melissa Amaro, Janelle Mendoza, Emily Meyer, Ayla Schmick, Jessie Robert, Kiana Ramos, Jill Spini, Molly Dolan, Isabella Amaro, Joyanna Bardell, Abby Gomez, Alex Calderon, Marisol Vega and Cynthia Van Wingerden.
Making the 3.7 GPA or above were cross country athletes Guillermo Correa, Freddie Roman, Martin Saldana and Jacob Rogers.
Soccer athletes earning 3.7 or better were Marisol Garcia, Cindy Gudino, Katie Herndon, Tanya Lugo and Analisa Van Oostrum.
Swim athletes recording a 3.7 or better GPA were Christine Kim and Toni Castillo.
Fall athletes earning all-league honors were first teamers in cross country, Jocelyn Yanez, Jacob Rogers and Jose Sanchez. Michelle Galvan earned honorable mention for the Lady Grizzly soccer team and Kaitlyn Broersma was the 3A swimmer of the year.
Rounding out the league honors for the football team were Mario Saldana, second team running back and honorable mention linebacker; Chance Graff, first team offensive line; and Adrian Ramirez, second team punter.
In team awards presented, the cross country team awarded its most valuable runner awards to Jacob Rogers and Jocelyn Yanez, coach's awards to Osbaldo Arroyo and Marlene Manzo, and most improved to Jose Sanchez and Sarasa Partida.
The Grizzly football team recognized Mario Saldana as MVP for both offense and defense, while Jacob Arevalo was named most inspirational. Victor Rios and Chance Graff earned the most improved and team captain awards, respectively.
In soccer, Teresa Ramos and Michelle Galvan were named the defensive and offensive MVPs, respectively. Fernanda Arias was most improved for the girls soccer team, and Ruby Herrera was most inspirational. Joanna Mendoza won the coach's award.
Sunnyside volleyball bestowed its MVP and team captain awards to Molly Dolan, and Jill Spini was named most improved. Jessie Robert garnered the team's heart and hustle award, while Megan Tyler received the coach's award.
In swimming, Toni Castillo was named most improved and Kaitlyn Broersma earned the coach's award.
The rally squad named Stephanie Morales as its MVC, and Ashley Bridges was selected as team captain. Sydney Wutzke won the coach's award, while Melodie Casas and Nidia Hernandez won the spirit and inspirational awards, respectively.
The ceremony also recognized Jocelyn Yanez's 45th place finish in the state cross country meet and the swim team's 16th place finish at the 3A meet. Kaitlyn Broersma was fourth at State in the 100 yard breaststroke, Toni Castillo 12th in the 100 yard butterfly and Marisa Broersma 14th in the 100 yard breaststroke. The quartet of Kaitlyn and Marissa Broersma, along with Castillo and Christine Kim was 12th at State in the 200 yard medley relay and 15th at State in the 400 yard relay.