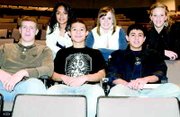 A helping hand given out last Christmas has spurred a group of Sunnyside High School students into performing another act of kindness.
Ashley Bridges, David Salmeron, Veronica Perez, Chance Graff, Efrain Silva and Kelsey Rollinger are all part of the leadership class at Sunnyside High School and make up one of five groups in the class.
Each group in the class changes its focus every two weeks. Currently, the group of Bridges, Salmeron, Perez, Graff, Silva and Rollinger are focusing on outdoor activities at the school. For instance, this group is in charge of changing the reader board.
Two weeks ago this group was focusing on hospitality and was charged with coming up with a community project for the class.
As Salmeron explains it, the group was sitting around brainstorming ideas when Bridges mentioned the leadership class adopted three families last Christmas and provided presents.
"We went to their houses and gave them gifts," she said. "It was pretty powerful. They were very grateful."
Rollinger is the only member of the group that was part of the leadership class last year and had a similar experience.
"It's pretty amazing," she said of the feeling of giving a helping hand. "Last year's experience was an eye opener."
Silva explained that each group will adopt one family and the members of that group will provide a Thanksgiving Day dinner.
Salmeron and Perez went to Fiesta Foods to ask for donations.
"We told the manager what we were doing and if he could help donate anything," Perez explained.
Perez said the manager asked if they wanted turkeys, which Salmeron and Perez readily accepted.
With five turkeys under their belt, each group was given a list of items to come up with.
The five Thanksgiving Day families will receive, along with their turkey, mashed potatoes, canned vegetables, stuffing, candied yams, gravy, seasonings, bread rolls and three bottles of sparkling cider.
"We're all bringing different stuff," Silva said.
Graff said he has already brought in stuffing and cranberry sauce.
Wal-Mart donated $40 towards the cause and the students came up with the rest of the kitty. Bridges estimates each group put in $30 of their own money.
Each student said it makes them feel better about themselves knowing they are helping people.
"It's about doing something good for someone," Graff explained.
The others agreed.
"It makes you appreciate things more," Silva added.
The Thanksgiving Day dinner packages will be delivered to the five individual families by the leadership groups on Tuesday, Nov. 25.