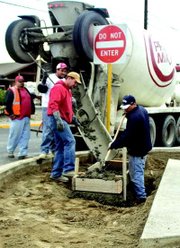 Concrete pourers from Jay's Concrete were busy this past Wednesday, prepping Jerry Taylor Veterans Plaza at Edison Avenue and Ninth Street for a Pearl Harbor Day dedication ceremony.
According to Greg Schlieve, the Sunnyside American Legion Post 73 project is well on its way to phase two, which should begin in the spring.
The site is currently being prepped to house two large granite slabs, both of which will feature pictures.
One granite slab will be a memorial to the USS Arizona, which was bombed at Pearl Harbor. The other will memorialize the Sept. 11 attacks.
The back of each granite slab will feature plaques highlighting individual members of the military. The plaques, sold at $300 apiece, were the funding source for upgrades to the plaza.
Schlieve said that in the spring, workers will remove the rosebushes and install paving bricks.
"The boulevard is about 400 feet long, this would complete about 100 feet of boulevard, and making way for foundations that will actually be a part of phase two," said Schlieve.
Ultimately, more granite walls will go up and more plaques sold to veterans and their families. Schlieve expects the plaque sales to resume in January 2009. He said the reason they aren't being sold right now is so that phase one construction funds don't get confused with phase two funds.
Schlieve said the memorial will be used for gatherings and once it's complete, it will give people a place to gather.
Of the first phase, he said, "This phase took us about two, two and a half years to do. And that's what we're thinking each phase will take."
All told, there are five phases to the project.
The granite slabs will be delivered on Dec. 4, just in time for the Dec. 7 dedication ceremony.