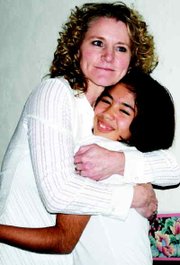 GRANDVIEW - A number of Grandview residents work toward the goal of making the community a better place to live.
They inspire others, volunteer time and resources and in the process of giving of themselves gain much in return.
A handful of those people were honored at last night's Grandview Chamber of Commerce Community Awards Banquet.
The community nominated individuals whom it believes deserved to be recognized for the many contributions made toward making Grandview a good place to live.
Tammy Ouellette, branch manager at Washington Mutual Bank, was presented the person of the year award.
Grandview Chamber of Commerce President Gaylene Tucker referred to Ouellette as "the ultimate volunteer," stating Ouellette has organized the registration booth for the community's annual parade, the annual chamber auction, the Grandview car show, led others in decorating the community float and worked tirelessly for the benefit of the community.
"This past year, Grandview would not have had a community float without Tammy and her family," said Tucker.
Taken by surprise, Ouellette offered a humble word of gratitude for the recognition.
Recognized as the outstanding firefighter of the year was Eric Stanton, who was noted for being an exceptional leader.
Grandview Fire Chief Pat Mason said, "If we had about 20 more of him we'd have it made."
He stated Stanton is always willing to step up and go above and beyond, helping with training of his fellow firefighters and taking leadership classes. In addition, Stanton has been willing to take on the responsibility of maintaining equipment, saving the department in many ways.
The top responder, Kevin Glassenapp, was recognized for being available and volunteering his time for approximately one-third of the department's fire calls.
Grandview Police Chief Dave Charvet followed Mason's remarks about the firemen, recognizing the outstanding police officer of the year. He presented the award to Officer Scott Ames, who was nominated by his peers.
Ames was recognized for being committed and working hard for the community, organizing a number of events and saving lives.
"He doesn't live in our community, but he leaves his home in his own community to organize events such as block watches," said Charvet.
Grandview's Wal-Mart Distribution Center was recognized as the business of the year for its support of the community and events such as the annual haunted house.
Tucker presented Earl Eric Horn of Cutters on Division with the economic development award.
Reading from comments provided by the community, she said, "Cutters on Division has added a modernized beauty to downtown Grandview. They have brought new business to our town with this wonderful improvement...seeing the economic development through this addition has drawn many citizens to the downtown (area)."
Alice Hurst was recognized as the outstanding volunteer for her enthusiasm and support of community events. Tucker noted Hurst's most recent volunteer work with the annual haunted house and said Hurst is "always willing to get involved in numerous activities at school and in the community."
Tucker went on to say, "She gives her whole heart to anything she undertakes."
The next to be recognized for his contributions to the community was Mike Bradshaw of Benton REA.
He was unable to be at the banquet, but Tucker said he has been instrumental in helping "revive" the chamber and has served on the Yakima Valley Fair Board to help its efforts toward revitalization.
There were six nominees for the Orrin Dybdahl Youth Award. Of those, Andrea and Lonnie Hendrickson were selected to receive the award.
Tucker shared the pair's tireless efforts in helping with several community events, including Band and Cheer Day, Battle of the Bands, Cub Scouts and three different booster clubs.
Adding humor to the moment, Lonnie thanked his boss "for allowing me to work on all these things," and gestured toward Andrea.
Elizabeth Alba next was presented with the chamber president's choice award. She was recognized by Tucker for her efforts in organizing the annual Grandview Grape Stomp, working on chamber projects and being a member of the Grandview Kiwanis Club.
"Elizabeth gets things done," said Tucker.
Surprising the recipient of the time and dedication award brought a tearful Cookie Shannon to the front of the audience.
Shannon was noted for her work with the Grandview Junior Miss program, the chamber, alumni events and the Centennial Committee.
"She kept saying October was her slow month, but we took care of that for her," said Tucker, saying Shannon is continuously busy working on community events.
"I am so glad I live in a community like Grandview...where people honestly care about one another," said Shannon upon receiving her award.
Adding to the list of awards, Tucker announced an above and beyond award had been created to recognize Sunnyside Community Hospital.
She said the hospital has been pro-active in providing Grandview with support and resources.
Tucker said, "They have stepped up to the plate, going above and beyond what has been asked of them and even at times just seen the need without having been asked."
Grandview's schools also took time to recognize outstanding students and teachers during the ceremony. The students and staff members were selected by the staff at the individual schools.
McClure Elementary School Principal Jose Rivera recognized fifth grader Amanda Oliver for her willingness to excel in many areas within the school.
He also recognized second grade teacher Stephanie Stanton as a "vigorous professional educator."
A.H. Smith Elementary's student of the year is Ariana Rios, who was noted for her caring attitude toward her peers and the staff at the school.
Leslie Charvet, a Grandview educator for 29 years, was presented with the teacher's award for A,H. Smith Elementary School. She was given praise for her willingness to mentor others and her devotion to the students she teaches.
Giselle Prieto, a fifth grader at Harriet Thompson Elementary School, was recognized for her role as a conflict manager and her ability to serve as a good role model.
Kindergarten teacher Kara Dykstra was the recipient of that school's outstanding teacher award. She was noted for being "One of the best teachers in the classroom."
Grandview Middle School Principal Jack Dalton recognized Elmer Campuzano as the school's outstanding student of the year and George Graf Jr. was named the teacher of the year.
Compass High School student Jessie Garibay and teacher Jane Graf were presented awards by Principal Brian Anderson.
Garibay was noted for working hard to reach his goals, and Graf was recognized for being kind and patient with both staff and students.
Vice Principal John Jennings of Grandview High School recognized two students as student of the year. Those students are Cheyen Schenck and Sydney Mottice. Both students are actively involved in a number of activities and serve as role models to their peers, according to Jennings, who stated they are inspirational individuals.
Teacher Roy Brownlee was recognized as the teacher of the year for the high school. Jennings said, "He embodies the philosophy of holding one's self at a high standard.