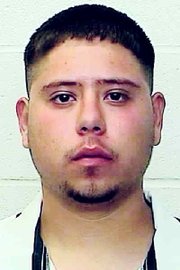 The Sunnyside Police Department is attempting to locate an 18-year-old male as a person of interest in the disappearance of Francisca Hernandez Ramirez, missing since Oct. 20 of this year.
Police are seeking Miguel Flores who was last known to reside in Outlook. He is 5'8" tall and weighs 200 lbs.
Ramirez is 14-years-old, is 4' 10" tall and weighs 100 lbs. She has brown hair and brown eyes.
Ramirez was last seen in the Sunnyside/Outlook area and police believe she could be in danger at this time.
Anyone with information on the whereabouts of either Flores or Ramirez is encouraged to contact Sgt. Oliver Hernandez at the Sunnyside Police Department at 836-6200.