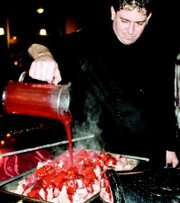 Like many other Stephanie Myers fans, I was eagerly anticipating the Twilight movie, the big-screen adaptation of the first book in her series, which seems to have attracted a cult like following.
Many of us signed up for a pre-movie Twilight party at Bon Vinos, where chef Roger Hazzard didn't disappoint with his ghoulishly presented dishes, like beef in a blood-red gravy. The standing room only event featured a silent auction of Twilight items, a costume contest and games.
After midnight, it was time for the movie.
The Twilight series revolves around the love story between teenager Bella Swan and vampire Edward Cullen.
I've read all four books in the series and because the last three were so good, I'd forgotten my feelings about the first book, which I had to force myself to read. The movie followed that same pattern.
For those of you who haven't read the book, I don't recommend the movie, because without the background, you won't understand why the movie is so agonizingly slow.
I felt that way when I read the book. I was getting frustrated because the first three-quarters of the book laid the foundation for Edward and Bella's love, too much so. There's very little action until toward the end.
The movie follows that same pattern. I was very, very sorry I signed up to be up past bedtime to see a movie version that, for three-quarters of it, was as boring as that part in the book.
I must say however, that this is precisely why teens love it. They seem to love the whole dragging out of the falling in love process, with the plain Bella Swan falling hard for the painfully handsome Edward Cullen.
If you have teens that want to see it, by all means they should go. But for adults who aren't die-hard fans of this book, don't waste your money.
The ending of the movie was woefully anti-climactic. Instead of ending the way the first book did, with Bella surrounded by six hungry vampires after she cuts herself and faints, the movie ending was meant to keep movie-goers coming back for more.
It left me feeling like I hadn't been taken on much of a ride at all, and that's what movies are supposed to be all about.