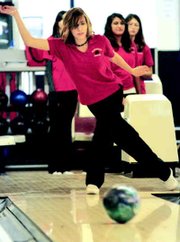 Despite splitting the four games with visiting Ellensburg yesterday, the Sunnyside High School girls bowling team absorbed a loss based on total pinfall.
The Bulldogs won the opening two regulation contests by 593-547 and 652-630 scores. Sunnyside rallied in the final two Baker games, winning 161-110 and 117-115.
Because the prep match ended in a 2-2 tie, the victory was decided by total pinfall. Ellensburg prevailed once the totals were added, 1,470-1,455.
Down 2-0 to the visiting Bulldogs, Sunnyside charged back in the first Baker game and won handily, 161-110. The Baker format calls for each member of the five-girl squad to alternate taking turns throughout the 10 frames. The Lady Grizzlies went on to squeak out a 117-115 victory in the final Baker game to make things interesting.
In the opening regulation contest, a 593-547 decision going Ellensburg's way, the Bulldogs got a team-best effort from Kelsi Chursevik, who rolled a 140. Shilo Holmes-Eperesa added a 134 for Ellensburg, with teammates Alexis Poyer, Sarah McNamee and Alex Gumeson adding performances of 117, 113 and 89, respectively.
Sunnyside's best effort in game one came from Marisela Prado. She tossed a game-high 142. Adding to Sunnyside's total in the first contest were Marissa Martin with a 106, Maritsa Rodriguez with a 105, Maleesha Maltos with a 103 and Ileana Martinez with a 91.
The Lady Grizzlies improved their total by 83 pins in the second contest, but still came out on the short end of a 652-630 score. The top bowler for Sunnyside in the losing cause again was Prado, who rolled a 140. Martinez and Martin had efforts of 133 and 132, respectively, with Rodriguez and Maltos closing out the Sunnyside scoring with performances of 129 and 96, respectively.
Ellensburg was led to the game two victory by McNamee. She threw a match-best game of 153.
The SHS bowling team doesn't return to action until Thursday, Dec. 4. That match will be against West Valley at Yakima's Nob Hill Lanes.