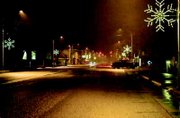 With tomorrow being Thanksgiving Day, I can't help but come up with some things to be thankful for. In no particular order they are:
- The end of budget season, or very near it, as three budget hearings back-to-back-to-back last week were quite enough.
- Sunnyside's efforts to keep the post office in its historical building right downtown on Edison Avenue.
- Family. No matter how early I have to leave for work, Joni always has a protein-filled breakfast waiting for me to take to the office for a mid-morning snack. I love her piano playing and her laughter. She's my best friend.
- My mom's homemade fudge candy, which should be arriving all the way from Ohio sometime next month.
- Our family at Grandview Christian Church. I love the smiles and hugs and encouragement we receive, and the opportunity to serve.
- Bessie, the family dog, our lab/corgi/border collie mix - a border laborgi you could say. She's a rambunctious, conflicted puppy with urges to cuddle and herd at the same time. She is loveable and fills a void left when our nine-year-old lab mix died earlier this year.
- That the Rose Bowl is on the line in this Saturday's Civil War game between Oregon and Oregon State. Go Beavs!
- A break between high school fall and winter sports seasons.
- The grace of God. I need it and the coming Christmas season always reminds me that Jesus gives us a clean start each day.
- A brief break in the flow of special publications at the Daily Sun News.
- That Sunnyside has a bowling alley. I know that seems like an odd thing to insert here, but there are many communities that do not have bowling. Cle Elum where we came from did not. I'm not very good at it, but a couple games of bowling now and then with a group from church makes for good fellowship.
- Readers who give us good story ideas and good feedback. Constructive criticism helps us do our job better.
Happy Thanksgiving!
More like this story