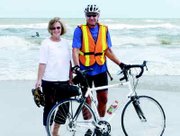 Sunnyside's Leroy Werkhoven is passionate about post-high school education and knows first-hand that money is the main thing holding many bright young minds back from pursuing their dreams. So passionate that he logged 3,300 miles on his bicycle recently just to raise funds for Toppenish and Wapato's Dollars for Scholars.
His goal, he says, is to send the message to young people wishing to pursue a higher education that "money will never be out of the question."
Said Werkhoven, "Investing in students is probably the best investment you can make. And when I talk to students, I talk to them a lot about investing in themselves."
Werkhoven peddled through the months of September and October, coast to coast, starting in Santa Barbara, Calif. and ending in St. Augustine, Fla.
"There were very few days that I'd ask myself if I made a good decision," he said, adding that thoughts of the donors and students kept him going.
His wife Libby accompanied him on his trip, only Mrs. Werkhoven drove. Each day, he would set out in the morning and the two would catch up at 10:15 or so for a meal. She'd then drive ahead, setting up their accommodations for the night.
It took Werkhoven, formerly the principal at Wapato High School, three years of planning before he made the trip. He even purchased a book that outlined a trail, but he soon found out the map led him to campsites.
"I'm not a camper…I want a queen size bed and a shower," he said.
He learned a few things along the way. "Rural communities are drying up and going away," he said, adding that many small towns were simply "shells" of their former existence.
There were a few challenges along the way. Texas is a good example. "I've rode in the wind before but not for eight hours and, one day, 10."
He also had an interesting experience when leaving Texas. When he was leaving El Paso, his plan was to travel along the Rio Grande River, and stick close to it until he hit Del Rio.
Soon, he was being passed by many police vehicles from various agencies. "At one time I got passed by well over 100 (vehicles)." He soon learned they were on their way to Houston to assist citizens in getting back to their residences following a hurricane. Werkhoven was eventually told by a border patrol agent that drug smugglers were extremely active, because they knew that most law enforcement was in Houston. The border patrolman told Werkhoven to stay north and avoid the area. That meant traveling on the freeway, which didn't seem to bother Werkhoven.
"That 10-foot shoulder that's on the freeway provided quite a cushion," he said.
Sometimes he got carried away with his imagination. When biking through the Florida bayous in dense fog, he began thinking about alligators. "And the first sign I came upon said 'Alligator Creek'."
This past May, he began his fundraising campaign. Donors signed up to contribute a set amount of money for each mile he pedaled. Some just donated a set amount.
To date, more than $67,000 has been raised and contributions, always welcome, continue to roll in. Just this past Wednesday, another $2,000 or so was added to the coffers.
Initially, the goal was to raise $10,000. But Werkhoven said that that didn't set well with him. It didn't seem like much of a challenge. He set the bar much higher: his goal became $100,000.
"I think we're going to make $75,000," he said earlier this week.
Werkhoven said that the biggest corporate donor is Darigold. He's also been surprised at the number of willing Sunnysiders who have given to the cause.
By the time he took off on his adventure, there were more than 400 donors, each of whom Mrs. Werkhoven sent a postcard to while traveling.
Of the 3,300-mile trip, he said, "It was fun. It was challenging. I'm glad I did it."