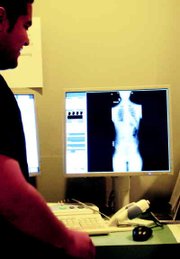 A new digital x-ray machine provides medical personnel with the latest in high quality imaging technology, and patients receive quicker diagnosis at Sunnyside Community Hospital.
GE Healthcare's Definium 8000 provides x-ray images within three seconds and images are elec-tronically matched to provide physicians with a complete view of a patient's entire exam.
This feature is called "Auto Im-age Paste," and it allows seamless images of long bones or skeletal structure to be captured.
According to Coleen Goulet of the imaging department, doctors manually matched images when a full body examination was re-quested prior to the acquisition of the new system. Now, those im-ages are electronically matched, providing more accuracy.
Another feature of the new technology is that of electronic access via satellite locations. "Doctors sometimes had to drive to the hospital to see an x-ray," said Goulet.
Now, those physicians can access the images from the com-puter in their office or at home. "If they are internationally connected and on vacation, they can access the images from there," Goulet added.
"We are able to perform the re-quired studies and exams at a faster rate, decreasing patient waiting periods," she went on.
This enables patients to also re-ceive a quicker diagnosis and treatment.
The Definium 8000, at a cost of $360,000, replaces a system that was approximately 20-years-old.
Goulet said it is a tool that al-lows Sunnyside Community Hospital to continue its tradition of utilizing the latest technology to benefit patients and families in the community.