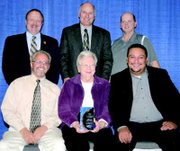 The Sunnyside School Board is the best in the state. That's ac-cording to the Washington State School Directors Association, which recently named Sunny-side's school directors as the "Board of the Year."
The board was nominated for the award by Sunnyside Schools Superintendent Rick Cole, who submitted a lengthy essay detail-ing the board's efforts in ensuring each student learns and succeeds.
His essay covered the board's unified vision, comprehensive self assessment, community engage-ment, district evaluations, development of operating prin-ciples, formation of the district continuous improvement team and their extensive research into "what works" in districts that face the same challenges as their own.
Essays were judged by four cri-teria: willingness to become a learning organization to provide strong leadership, collaborative work that shows the board and superintendent functioning as a team, clear descriptions of lessons learned that benefit other school boards and the demonstration of commitment to build upon what was learned through a thoughtful implementation plan.
"This award shows that the school board is doing the right things to ensure that all students succeed," Cole said in a press release.
Cole's essay begins with a quote from Aristotle: "All who have meditated on the art of governing mankind have been convinced that the fate of empires depends on the education of youth."
Cole outlines what makes Sun-nyside different in his essay. "Where the average percentage of students who qualify for free or reduced lunch in the state is 38 percent, ours is almost 90 per-cent."
He also outlined the number of students in the district who are transitionally bilingual versus the state (27 percent here, eight per-cent in the state). Also noted by Cole is the percentage of Sunny-side students who come from mono-lingual Spanish speaking homes: nearly 60 percent.
Wrote Cole, "Some might label those statistics as 'challenges' or 'obstacles,' but our board sees them as opportunities. They see those 'challenges' as opportunities to help those who otherwise might be given up on."
Cole also noted that he has nev-er before worked for a board that is as involved and feels such a strong sense of duty to facilitate student achievement.
Cole lauded Sunnyside's School Board for its "intense self-reflection" and the dramatic in-crease in input from the public during the decision making process.
The board accepted its award last week at a banquet in Spokane in front of more than 1,000 school board members, superintendents and principals from across the state, including Superintendent of Public Instruction Terry Bergeson.
The community is invited to celebrate the achievement at the Dec. 18 school board meeting at 7 p.m., where coffee and cake will be served.
More like this story