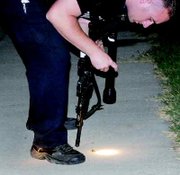 GRANDVIEW - Grandview police are investigating what they are calling a gang-related shooting that took place in the area of East Third Street and Avenue E last night, Tuesday.
The report of shots fired came in from several different callers at about 8:15 p.m. When officers arrived, they made contact with a 39-year-old male.
Police say the man heard two individuals begin to yell gang-related statements. The man confronted the two individuals and they began to argue. That's when police say one of the men, a 20-year-old known gang member, pulled out a gun and began to fire the weapon. He and the individual with him then took off on foot.
A witness then told police that the suspect accused of firing the weapon ran into a residence in the 600 block of East Third Street.
Grandview called upon its Special Incident Response Team, as well as assistance from Prosser, Yakima County and Mabton.
Officers set up a perimeter around the home and then searched the home, but did not locate the suspects.
No one was injured in the incident and police are currently waiting upon a photographic line-up to determine the identity of the man that was with the alleged shooter. The identity of the alleged shooter is known to police.
Also yesterday, a theft report received by Grandview police got a little confusing.
A man notified police that $1,000 had been stolen from his vehicle. Police say the missing money is rent funds the man unlawfully obtained purportedly on behalf of a deceased person. Police say when the property owner died, the man took on the task of taking care of the property and rent without authorization from the deceased person's relatives.