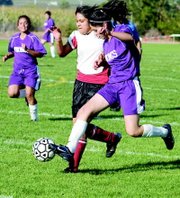 GRANGER - "Awesome and uplifting is the way we describe last night's game," exclaimed Mabton girls soccer coach Lucia Tovar.
Her excitement came with a 5-0 victory over the Granger Spartans, which is the first win for the first year Lady Vikings soccer team.
Tovar said the victory was earned because, "every single one of the girls that played on that field looked like they wanted to be there."
Mabton's team played as one unit, utilizing the skills practiced and coming together to control the game.
The first goal of the game for the Lady Vikings resulted when Marisela Leon passed the ball to Alma Leon. Leon dribbled past the Spartans defenders, earning the first goal within the first 10 minutes of the game.
Gaining confidence from the play, she continued to look further for scoring opportunities in the game.
At the 16-minute mark, Rubi Reyes of Mabton passed the ball from mid-field to Leon. She took the ball up the side line, moved to the center and scored a second goal.
Continuing her run against the defense, Leon tallied a third goal at the 22-minute mark. The feat was a result from a pass from mid-fielder Hilda Galvan.
A fourth point for the Lady Vikes was garnered when Leon passed the ball to Marisela (Leon). Marisela was able to tap the goal in when the Spartans' keeper left the goal box, missing the ball.
"I thought the fact that we were ahead at the half would make the team believe they could take it easy," commented Tovar.
She said she was wrong and the Lady Vikings continued playing hard, looking for opportunities to score.
Mabton's Marlen Chavez assisted Leon in scoring her fourth goal of the game.
Overall, the Lady Vikings had 14 scoring opportunities, and Tovar credits the Spartans for defending the ball well. She said, "Granger's team did a great job of never giving up and making us work for the win."
Expressing pride in how well her team performed, she stated, "They showed each other how well they can do when they play as a team."
Mabton (1-8) hits the soccer field at home tomorrow (Thursday) against Wahluke, hoping to earn another victory.