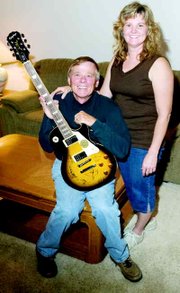 What started as a day of work ended with an evening of excitement for Randy and Debbie Tucker, owners of Tucker Cellars near Sunnyside.
The couple went to the Central Washington State Fair this past Saturday to pour some of their award winning wines.
As Randy explains it, he and his wife both knew that the band Foreigner would be playing that night and they made plans to attend.
"We has always liked their music," Randy added.
Figuring there would be a large crowd at the show, their suspicions were realized when they were told by fair staff that the band was the biggest draw this year.
The Tuckers started serving their wines at 3 p.m. and the many people quickly consumed everything by 3:30 p.m.
"There were lots of people," Debbie added.
With still four hours before the show began, the Tuckers walked around enjoying the sights and sampling food. At 5 p.m. a few Foreigner fans started to gather. By 6:15 p.m. the line had grown very long.
"I though, oh my gosh," Debbie said.
The Tuckers were worried they might not be able to get into the free, first come-first serve show.
Luckily for them, a gate opened up right next to them and they were able to walk right in and sit in the bleachers, which quickly filled up in 15 minutes time.
While waiting for the show to begin it was announced the new Foreigner CD was on sale and for those who bought the CD their name would be entered into a raffle where the winner would receive a Les Paul guitar and backstage passes.
The Tuckers bought a CD, went back and watched the concert and had a good time.
"There were some good songs," Randy said. "Everybody was singing along. People were holding up their cell phones. It was a good night."
Because Debbie had early plans for the next day the Tuckers were ready to leave when the show ended around 9:15 p.m. They almost walked out when Debbie remembered the raffle, so they waited, and won.
The Tuckers went backstage and met the band, got their pictures taken and had all the band members sign the guitar they won.
"It was a blast," Debbie said. "We enjoyed the concert mostly and the guys in the band were really friendly people."
So what will the Tuckers do with the guitar?
Randy said he used to play guitar when he was a kid but Debbie quickly put to rest any ideas about the instrument.
"No one's going to play this guitar," she said with a smile.