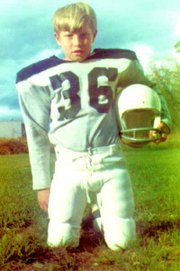 It's not like the stakes aren't already high enough as the Sunnyside Grizzly football team hosts Pasco tomorrow night in the homecoming game.
Behind the scenes, though, there's a family matter to be resolved Friday night, as on the Pasco sideline will be head coach Steve Graff, whose son, Luc, is the Bulldogs' back-up quarterback and a wide receiver.
If that name sounds familiar, it should, as Graff is a 1979 graduate of Sunnyside. His brother, Curtis, is a youth coach in Sunnyside and his nephew, Curtis's son Chance, will play defensive end and guard for the Grizzlies on the gridiron this coming Friday.
"It's a football field with a lot of memories," Steve said of Clem Senn Field. "We'll just be on the other sideline."
Steve's been at Pasco for 20 years, the past 10 as head football coach. He attributes that success and longevity to the coaches he played for at Sunnyside.
"The role models I had there (Sunnyside) are the reason I'm doing what I'm doing now," Steve said by phone. He specifically mentioned coaches Rick Stubrud, George Asan and Errol Miles, among others, who shaped his coaching future.
The homecoming setting isn't lost on Steve.
"That'll be kind of cool," he said of tomorrow's big game. "We lost our homecoming (in 1978) to Toppenish in overtime, 18-15. Maybe I'll be able to win this homecoming."
His brother, Curtis, noted there are other Graff brothers with football connections. A half-brother, Rob, played on Prosser's first State tournament football team back in 1991. Another brother, Robin, is in his second year at the helm of a high school football program in Boardman, Ore.
Curtis says the football involvement is an extension of those childhood years in Sunnyside.
"I think it's because we pretty much love the sport and we always played it," Curtis said. "We were around it our whole lives and our dad (the late Robert Graff) coached us in Grid Kids," added Curtis, who also has coached Grid Kids.
As part of the 1984 graduating class that will be honored Friday night, the evening is doubly sweet for Curtis.
"I've got a homecoming class reunion and we have a family reunion," he said.
All the family connections are well and good, but there's the matter of a football game to be played.
"It's going to be tough. Pasco's a pretty good team," Curtis said. "We might be a little bit over-matched, but we've gotten better and we've studied their games quite a bit."
Jean Joyce is the mother of the Graff brothers, and she says she's going to root for both teams. Friday night she'll wear the jersey numbers belonging to her grandson Chance and to nephew Luc.
Her non-partisan approach will extend from head to toe.
"I'm going to be in purple on one side (for Pasco) and I'm going to be in black on the other (for Sunnyside," she said. Joyce says she's even going to color her hair purple and black to reflect her divided loyalties.
"Whoever has the ball is who I'll root for," says Joyce. "This has never happened before. Steve has never brought a team to Sunnyside before."
Curtis says his mom wants to be so neutral that she even asked if the game could end in a tie.
That's not possible with the high school Kansas City tie-breaker, which means there will be a loser and a winner on the scoreboard Friday night.
But only on the scoreboard.
"Win or lose, no matter what happens, I'm proud of them all," Joyce says.