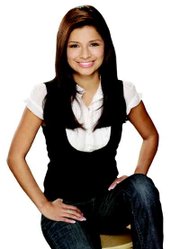 HOLLYWOOD, CALIF. - Red carpets, movie premiers and that nutty Gary Busey are just a few of the things Kristina Guerrero faces in her life in Hollywood.
Guerrero, a Los Angles based correspondent for the newsmagazine Inside Edition, has been reporting extensively on the Hollywood scene for almost a year now.
The 1998 Sunnyside High School graduate worked for a daily entertainment show, Great Day SA, in San Antonio, Texas before she moved to L.A.
As an entertainment reporter for Inside Edition Guerrero said she's recently been covering the show Dancing with the Stars. She chats and rubs elbows with the stars and has to do the interviews when they get booted off.
The other night, she spoke with Kim Kardashian when she was voted off the show.
Kardashian, whom Guerrero describes as absolutely beautiful and down-to-earth, was obviously upset.
Guerrero has interviewed her fair share of stars, including Jim Carey and Kirk Douglas from her earlier stint with Access Hollywood. More recently she's interviewed the likes of Warren Beatty, Eva Longoria and Rob Lowe.
These are usually fun pieces with no real hard-hitting questions. But that doesn't mean she doesn't do those more in-depth interviews.
When Republican presidential hopeful John McCain announced his VP pick, Guerrero was on a plane that morning to Wasilla, Alaska to check up on Sarah Palin.
"I went to the small town and started talking to people," she said. "I got some stories, including two exclusives."
Those exclusives were interviews with Palin's parents and her in-laws.
A fun little story she told the Daily Sun News about dealt with gold and the recent price spike. Because of that Guerrero went to the mountains in Northern California with a prospector and mined for gold.
"We actually found some," she added. "It's fun to do things like that."
Her craziest moment in Hollywood involved probably the craziest celebrity in Hollywood, Busey. Guerrero and her camera crew went to his house to do an interview that was so nutty it ended up on The Soup and You Tube.
"He was very kind and then very manic," she recalled. "I would ask a question and if he didn't like it he would yell at me. I've never seen that kind of behavior before."
Even with craziness like the Busey interview, Guerrero said her job is going good.
"It's been a great opportunity," she said of her time in Hollywood. "I've seen and done some pretty amazing things."
&nbsp