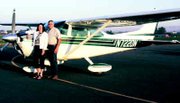 GRANDVIEW - Preserving and protecting the Yakima Valley Fair and Rodeo is the impetus for a fundraising gala slated for Thursday, Oct. 9, at the Flour Shop in Grandview.
The event will feature a silent auction and wine tasting. Mike Andrews of Coyote Canyon Winery will pour wine during the silent auction. Andrews is a former 4-H and FFA fair exhibitor. His father, Bob Andrews, served on the fair's board of directors for several years.
Among the featured auction items is an airplane ride donated by Ted and Pam Durfey of Sunnyside. Other items included in the silent auction are gift baskets and desserts.
The Over the Hill theatrical group will provide entertainment for the evening by singing songs from their current production of Beauty and the Beast.
Proceeds from the dinner and auction will go to the Yakima Valley Fair and Rodeo Foundation. Fair board members plan to use half of the proceeds raised by the dinner on a capital improvement project at the fairgrounds. The remaining balance will go into a permanent fund, which will help support the fair financially.
The silent auction will begin at 5:30 p.m. and dinner will follow at 6:30 p.m. Those attending the dinner will have a choice of either prime rib or salmon.
Tickets to the foundation dinner and auction are limited. Cost is $50 per person. To purchase a ticket call Martina Castle at 882-1368, Cathy Mears at 882-1898, Karma Frank at 882-1310 or Gail Boose at 882-1870.