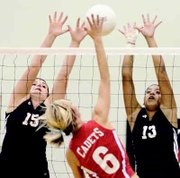 With homecoming spirit behind them, the 3A Sunnyside Lady Grizzly volleyball players put up a fight against 4A Eisenhower last night, Thursday, before falling in three games.
After losing the first two games 25-7 and 25-15, Sunnyside grabbed an early 3-0 lead in game three behind three aces served up by Janelle Mendoza. "We were building momentum from the first two games," said Sunnyside Coach Mikal Aberle.
In one of their best efforts to date, the Lady Grizzlies led much of the way in game three. The last Sunnyside lead was at 17-15, before the Cadets finished off the game and the match with a 10-3 run.
Aberle said Sunnyside was successful because it was hitting the ball harder at the net. She also noted some player moves in switching Sunnyside's Kiana Ramos on defense to the right side.
Ike's rally, Aberle noted, was due in part to a tough service game that made it difficult for Sunnyside to return and regain the momentum.
Jessie Robert had nine kills for Sunnyside, while teammates Lani Ramos and Alissa Martin each had 21 perfect passes. Ramos also smacked down four kills at the net for the Lady Grizzlies.
Besides the three aces in game three, Mendoza paced the Sunnyside attack with 18 assists.
Sunnyside (0-5) is next scheduled to return to action on Tuesday, Oct. 14, at home against Moses Lake.
With the long time between matches, Aberle said her team will work on consistency in game play. They'll also work on sustaining the progress the Grizzlies experienced in game three against Ike.
"We'll try to bring that momentum in the third game to the first game of our next match," Aberle said.