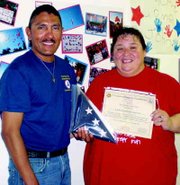 MOUNT VERNON - A 24-year Army veteran, Mabton native John Dominguez, was in Grandview earlier this week to recognize the Alice Grant Learning Center's support of U.S. troops in Iraq.
Dominguez, a 1982 Mabton High School grad, is on leave in the U.S. after serving the past five months in Iraq. As a master sergeant, he led a contingent of troops responsible for countering improvised explosive devices used by insurgents.
Dominguez made the presentation to the Alice Grant Learning Center, which is affiliated with the Washington State Migrant Council, because of a memory walk it held in conjunction with Sept. 11, Patriots Day.
Dominguez's sister, Rosemary Ibarra, organized the walk at the learning center to coincide with a five-kilometer run he organized in Iraq for Sept. 11. The flag that troops flew in Iraq on Sept. 11 was presented to the learning center.
While here in the Lower Valley, Dominguez said he was able to visit most of his family. "I am one of 13 brothers and sisters, so I have several extended family members," he said. "I got a chance to see the majority of them."
Dominguez, his wife Brenda and their four children make their home in Mount Vernon. He returns to Iraq on Monday, Oct. 13, for another six-month tour of Iraq.
He says the effort to counter the explosive devices in Iraq is working. When he first got there, he said there were about 25 each day that were located. That number is down to 10 now, he said.
The work Dominguez does in Iraq includes not only locating the explosives, usually buried under or alongside roadways in an attempt to harm U.S. troops, but training soldiers in what to watch for and how to utilize detection equipment that continues to evolve.
As part of that work, he helps lead large convoys of supply trucks carrying food and fuel. The convoys, he said, can vary from 40 to 200 trucks.
"We are the truckers for the entire country of Iraq," he explained. "In my position I have to help field new equipment to help with defeating the IEDs (improvised explosive devices)," says Dominguez, who serves with the third sustainment command from Fort Knox, Kentucky.
Dominguez is also among those who have responsibility for analyzing every explosion that happens in Iraq in an attempt to find new ways to defeat the weapons.
Dominguez says some of the methods and equipment in combating the explosive devices are classified.
He says he advises troops in the field to use the best weapon they have against explosives. And it's not classified.
"We always tell them all the equipment we give them can never replace their eyes," Dominguez said. "Observe and be vigilant."
Dominguez, who also served during Desert Storm, says things are changing in Iraq.
"The people are appreciating the fact we are there," he said. "I also think it's about time for us to think about leaving and let them develop their own country. As soldiers, we've done a great job and the country's a lot more safer place."
Dominguez has been in the Army for most of his life. Whether it's home on leave or trekking back to Iraq in a week or two, he says he enjoys the service.
"I actually enjoy the camaraderie," he said. "I enjoy the fact I'm doing something to make a difference and to defend our country."