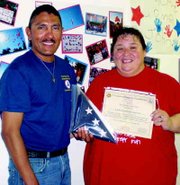 Gearing up for next month's election, 15th District Representatives Dan Newhouse and Bruce Chandler spoke to the faithful at this morning's Sunnyside Republican Club meeting.
Chandler talked about gang legislation recently passed in the House as being extremely important in supporting what communities in the Lower Valley are trying to do.
"It defined gangs and gang activity, that's the most important thing," he said. "That's big protection against liability for communities."
But, he added, more needs to be done. Chandler said the legislation doesn't affect minors under the age of 15-years-old.
Newhouse added there wasn't any funding attached to the legislation. Noting that most kids get into gangs out of fear, he said more opportunities need to be given to communities to keep the youth occupied.
Chandler said prevention and graffiti abatement provisions were stripped from the bill in the Senate and that the House of Representatives will re-visit gang legislation in the next session.
Chandler also spoke briefly about the expected $3.2 billion deficit Washington state is facing in the next two-year budget. He predicted the number would jump to $4 billion by January.
"Next year the state will collect more tax revenue than ever before," he told the GOP club. "But it's not keeping up with our spending."
With the way the economy is going, Chandler said it unfair to punish working families because state government can't control their spending.
Newhouse agreed, calling the current economic situation the toughest challenge facing Washington lawmakers.
"There will be tremendous pressure to find new revenue," Chandler explained. "People don't like to cut budgets, it won't be an easy thing to do."
He said one of the biggest challenges will be spurring economic development in areas that are rural, like the 15th District.
Chandler was asked how state government will try to make up the budget shortfall.
He responded that he believes there will be a big push by some in the government to impose a carbon tax.
"There will be a big push because we're saving the solar system if not the galaxy," he jokingly said, referring to global warming.
He doesn't believe the gas tax will increase, noting those dollars aren't coming in as much anymore. This is due, he said, to an increase in fuel efficient vehicles and Americans using less gas.
"The trend is to go to tolling to pay for roads," Chandler said. "We may see some of that in King County."
The increase in minimum wage was also discussed.
Newhouse told club members the increase was voted in by the people and because of that the legislature won't go against it. He did, however, agree that it could hurt business.
He said a reasonable minimum wage allows employees to hire more people. The benefits of this could be getting more youth off the streets and into jobs.
Vehicle theft was also discussed. Newhouse acknowledged there is still some work to do but noted penalties have increased.
"Previously you could steal seven cares without going to prison," he said. "That's been shortened to four."
As always, both representatives thanked the Sunnyside Republican Club for its continued support.