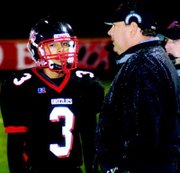 After a week of fun that saw Sunnyside High School students participate in the homecoming macho-man volleyball and powder-puff football games, the Grizzlies were dealt a blow this past Friday night when they lost to the Pasco Bulldogs, 40-8.
The rain came down hard Friday night, just like the Bulldogs.
"We were playing a team that is real big and real fast," Sunnyside Coach Mark Marro said. "They dominated us in the middle."
Despite being outsized on the field Sunnyside played a mostly mistake-free game. The Grizzly running backs and receivers held on to the ball, not fumbling once. And quarterbacks Andrew Daley and Michael Rodriguez threw no interceptions for the night.
"We played a pretty clean game," Marro said. "In the beginning we had some bad defensive sets and a bad punt that gave them (Pasco) a short field."
Marro was referring to a 58-yard touchdown throw from Pasco's quarterback, Carlin Andrew, to receiver Jacob Price.
Marro explained the coverage on that play was off, enabling Price to get open.
On the next series Sunnyside was forced to punt and Pasco was able to sack the punter, setting up an Andrew three-yard run for a 14-0 lead.
One positive Sunnyside claimed Friday night was an injury-free game.
"We came through this healthy," Marro added.
The Bulldogs managed to put the kabash on Sunnyside's offense. Victor Rios was the leading rusher for Sunnyside, getting 98 yards on seven carries, with a touchdown. But 80 of those yards came on the touchdown run.
Pasco limited the Grizzlies to 121 rushing yards and just 48 yards passing. Sunnyside was able to get five first downs, one of them on a penalty.
The Bulldogs, however, used their speed and size to rack up 267 yards on the ground and amassed 167 yards through the air. Andrew was 7-for-9 passing for 142 yards and two touchdowns. He also ran for 56 yards and two scores.
Sunnyside was down 31-0 with 5:59 left in the third quarter when Rios broke out for his 80-yard run. The point-after attempt failed.
"We were about a block-short for most of the night," Marro said. "We were outweighed by 100 lbs. on some positions."
But Marro pointed out that Sunnyside held its own for much of the game, making the Bulldogs work for everything except those first two scores.
"I thought we played much better in the second half," Marro said. "We played a base defense and gave up a few first downs but held them up in the end. They did catch us with the pass and that hurt us."
Marro said his team overplayed for the run, a tactic he took the blame for.
He pointed out the play of Rios, whom he said played a great game.
"He worked real hard," he added.
He also thought Leo Cuellar played well in the safety and corner positions on defense, as well as his defensive line and linebackers Jacob Arevalo and Mario Saldana.
Sunnyside (1-3, 1-4) will travel to Yakima Friday, Oct. 10, when the Grizzlies take on the Davis Pirates at 7:30 p.m.