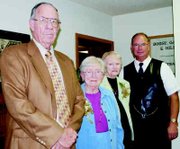 Sunnyside's Garrison Law Office marked its 100th anniversary with a party catered by Bon Vino's last Friday.
According to Roger Garrison, the firm's eldest partner, Oscar L. Boose opened the law firm in October 1908.
Garrison provided background on the founding lawyer, stating Boose was born in Somerset, Pa. in the Amish country on March 10, 1884.
"Boose obtained a normal education for that time in history. Following his graduation from high school, he taught school," said Garrison.
He went on to say Boose decided to go to law school after approximately three years as a teacher.
Boose attended the University of Michigan Law School, graduating with the class of 1908.
After receiving his law degree, Boose moved to Sunnyside. "I do not know, nor can I help you explain why he moved to Sunnyside, except to say that he wanted something fresh and challenging...and Sunnyside definitely was."
Boose also had relatives already in Sunnyside, such as his nephew Harvey A. Boose. Harvey was a cashier at the one bank in town.
Sunnyside was growing rapidly and had two other attorneys in town. "So, he (Oscar) hung out his shingle," said Garrison.
Several years after moving to Sunnyside, Boose married Emma Louise Cornwell, a clerk at Shriener Title Company in Sunnyside. The couple had a daughter, Barbara, and raised a niece.
Following 49 years and six months of practice, Boose retired. "He never explained to me why he didn't make it 50 years, but he did want to retire and he was in his mid-60s at the time," said Garrison, who first met Boose in 1954.
Garrison went into the Armed Merchant Marines at the age of 18, a division of the U.S. Coast Guard, in January 1945. He stayed in until the end of hostilities from World War II.
Following the war, he said he didn't do much, and decided to go to law school in 1946. He married Cloe, attended Grays Harbor College and received his degree from the University of Washington Law School in 1951. Prior to joining Boose's law firm, he practiced law in Seattle with the Attorney General's office.
"I got bored of doing the same thing over and over," Garrison said of his experience with the Attorney General's office.
He heard of Boose's desire to have a successor and sought the opportunity to work at the Sunnyside practice.
"Oscar worked for about six to eight months after I joined him," said Garrison.
He said he has been in continuous law practice in the historic office since joining it. He has served many of the city's businesses, including C. Speck Motors, which has been around nearly as long as the law office.
"This is probably the oldest continuous law practice in Eastern Washington, and it's certainly the oldest continuing law practice in Yakima and Benton County," said Garrison.
In 2000, Garrison's son, Doug, joined the practice. "At the age of 80, I have backed away from heavy litigation, but remain involved with the clientele," said the elder Garrison.
The Garrisons have kept much of the original furniture at their downtown office, and several photos depicting Sunnyside's history are hung throughout the law firm.
Garrison said he hopes his son will be able to carry on the family practice for a number of years, and he is proud to be a part of Sunnyside's history.
At the centennial celebration were Margaret Nelson, who worked in the law firm with Boose, and Margaret Linehan, who was one of Garrison's first employees.