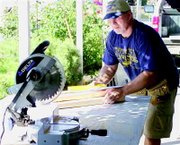 We all have chores and responsibilities. But for low-income senior citizens and disabled adults, accomplishing chores can feel like a major challenge.
Enter Catholic Family and Child Service and volunteers like Grandview's Dave Charvet.
Volunteer Chore Services was created in 1981 by Catholic Family and Child Services to help those in need who were no longer qualified for state-run chore assistance due to state budget cuts, according to Natalie Curfman, who coordinates chore services here in the Lower Yakima Valley.
"This population was unable to afford outside assistance so volunteers began to help and Volunteer Chore Services was born," Curfman explains.
The goal of the program is to help individuals remain in their homes for as long as possible, while maintaining independence and safety.
"Another goal of the program is to help reduce isolation of our elders and adults with disabilities and re-connect them with Lower Valley communities," adds Curfman.
The Lower Valley office has about 21 individual volunteers. Among them is Dave Charvet, who also happens to be police chief in Grandview.
Charvet first heard about the volunteer chore service program at his weekly Rotary Club meeting. Charvet discussed the program that evening with his wife, Kelley.
"It sparked our interest," says Charvet. "We signed up early this (past spring)."
One thing that's important to note is that individual volunteers have different talents they bring to the table.
For Kelley Charvet, she enjoys driving elders to their appointments and cleaning their homes.
For Dave Charvet, his knack is building wheelchair ramps and installing safety handrails.
"We both went different ways," says Charvet. "I started working with a a man from Yakima building (the ramps). That's kind of been my niche."
Charvet says it takes a few hours to install safety railing. It can take up to a few days to build wheelchair ramps.
"Ramps are a big need for people because of the sheer cost and bulk to put one together," he says, adding that paying a contractor could cost thousands to build a ramp.
When Charvet builds a ramp, he has to make sure it's in compliance with the Americans with Disabilities Act. One requirement is the sloping: for every inch of space at the platform, the slope needs to go out one foot. "If the base of your platform is 12-inches, your slope has to go 12-feet out...that's where it can get expensive, it means a lot of wood and a lot of materials."
Charvet said Curfman handles the financial aspect of caring for the elders, volunteers simply do the work.
And there's plenty of work to be done.
"Everyone has a talent, skill, or just plain helping hands that they can share," says Curfman, adding the agency can "use any willing hands whether they are children or adults."
Some volunteers are actually parents trying to teach their kids about serving others.
Volunteers can help with leaf-raking, snow shoveling, painting, window washing, laundry, household repairs, assistance with letters and communication, help with moving and participation in the community advisory council.
Curfman says there are specific areas of need right now. "One particular need the program has right now is for a group of people to join Dave in his work of building handrails or wheelchair ramps. There are four more ramps that have been waiting up to a year to be built. It would be ideal to have an active Lower Valley team. There is also great demand for house cleaning and transportation at this time."
There are 11 service groups currently signed up to work for Volunteer Chore Services, including Girl Scout troops and Rotary Clubs.
Volunteer application packets are available and include contact information, personal references, a Washington State Patrol background check and disclosure statement.
"Elders and adults with disabilities are a vulnerable population. (Our agency) does its best to screen each and every volunteer before it sends them out," she said.