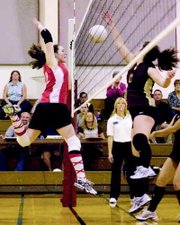 Despite playing what Bickleton Coach Kim Clinton described as their worst match of the season, her Lady Pirates last night claimed their first league victory over the Sunnyside Christian volleyball team in 24 years.
"We did not play well," said Clinton.
"We played absolutely horrible. We had 23 service errors for the night, the worst we've done all season," Clinton said.
The host Lady Knights took advantage of those errors and eked out 25-22, 27-25 wins in the first two games.
Clinton said following the two losses she looked at her players and told them they were just going to have to work for it.
"They absolutely did not want to lose," Clinton said of her Lady Pirates. "They just grabbed hold, bore down and were tenacious about it."
The result was a stunning 25-23, 25-20, 15-9 comeback for Bickleton.
"We made it closer than it needed to be, that's for sure," said Clinton.
Powering the Lady Pirates to the come-from-behind rally was Katelynn Clinton. Individual statistics for Bickleton weren't available from last night's match, but the star hitter had numerous blocks and spikes at the net.
"When we put her close to the net, she's unstoppable," the Bickleton coach said of the Lady Pirate power hitter.
The one Bickleton player who didn't struggle from the service line was Morgan McBride, who put 26-of-29 serves into play.
"We're excited about the win," said Clinton. "I wish we would've played better, but it's a win and we'll take it."
Tuesday's victory improved Bickleton's overall record on the season to 7-2. The Lady Pirates varsity will next play against the Riverside Christian JV. That match is scheduled for next Tuesday, Oct. 14.
Sunnyside Christian Coach Tammy Bangs said she is at a loss in trying to explain last night's collapse.
"We can be playing so well one moment, and the next we are creating very simple errors.
"The girls are playing hard, but I think the lack of communication on the court takes its toll in these close games," said Bangs.
Bangs said her Lady Knights need to improve their passing game. "Also, our setters are having to work way too hard to put a set up," she added.
In the losing effort for Sunnyside Christian last night, the leaders at the net included Ashley Haak and Joleen Van Wingerden with seven kills apiece. Janelle DeGroot added a six-kill, two-block effort.
Abby Bangs led the Lady Knights in setting the ball, recording 14 assists. She also was 18-for-20 from the service line and had six perfect passes. Also for SCHS, Alyssa Haak was credited with a 17-for-20 performance from the service line, which included a team-high two aces. She also had a team-high five defensive digs.
Sunnyside Christian, now with a 1-14 overall record, will play next Tuesday at Riverside Christian.