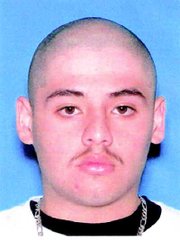 GRANDVIEW - The Grandview Police Department called on its Special Incident Response Team yesterday, Tuesday, to execute a search warrant in connection with a shooting that occurred on Sept. 30.
Sunnyside's SWAT team assisted with the warrant, which was executed in the 1200 block of Rainier Avenue in Grandview city limits.
According to police, Grandview detectives investigating the Sept. 30 shooting obtained information about the house, which they say is a known gang house.
Police say they found a firearm, ammunition and drug paraphernalia and a 36-year-old woman that resides at the home was arrested.
In the Sept. 30 shooting incident, the victim told police he was in his front yard when two known gang members began yelling at him. After a verbal exchange, the man was shot at.
Police are searching for 20-year-old Antonio Magana, who is also considered a suspect in the Sept. 30 case.
Those with information about Magana's whereabouts are encouraged to call 882-2000. Those wishing to leave information anonymously may do so by calling the Grandview Police Department's hotline at 882-STOP.