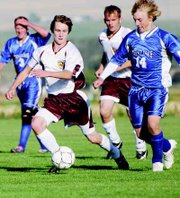 Trout Lake ended up getting the better of the Sunnyside Christian High School boys soccer team yesterday, winning in the second five-minute overtime period 3-2.
SCHS Coach Tim DeGroot said his team is starting to believe in itself and playing better.
"We out shot them in the first half," DeGroot said of his team's play. "We had some opportunities but we didn't finish them. But we did pretty good."
Trout Lake scored first in the 28th minute of play on a Micael Dick goal. This was the lone score in the first half.
"We could have easily had a 3-1 lead but we just didn't finish," DeGroot said. "But that happens. I told the team they had to win those 50/50 situations. They couldn't just jog back into their positions."
The Knights responded just after intermission, in the 50th minute of play. Steven Broersma found Steven Bosma close to the goal and Bosma was able to put the ball in the left hand corner for the score.
Twelve minutes later Bosma assisted Nathan Groenewold with a score. Groenewold unloaded a shot that deflected off a Trout Lake defender before careening into the net.
With the Knights holding a slim 2-1 lead Trout Lake's Luke Deardon got the equalizer in the 66th minute of play, which eventually sent the game into overtime.
The first five-minute overtime period was scoreless. Dick scored in the second minute of the second overtime to give Trout Lake the win.
Both Groenewold and Devon Swofford played keeper for the Knights. Groenewold recorded seven saves while Swofford had nine. Trout Lake's keeper, Jacob Wells, had 10 saves.
Trout Lake got 19 shots on goal and SCHS recorded 15.
"That's a positive thing," DeGroot said of his team's number of shots on goal. "We're not afraid to shoot."
DeGroot pointed out the play of Groenewold, whom he said can play any position on the field.
He also pointed out the play of freshman Jackson Haak.
"He's a natural athlete," DeGroot claimed. "He's great on defense, fearless and will go after anything. I'm very pleased with what he was doing (today)."
SCHS (0-3, 1-7) will next host Moses Lake Christian Academy Tuesday, Oct. 14, at 4 p.m.