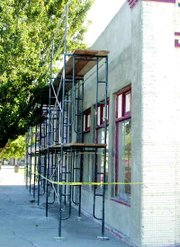 A new dance hall in Sunnyside valued at nearly $300,000 led the way in new building starts approved by city officials during the month of September.
Plans approved by city building officials on Sept. 4 call for a 9,334 square foot building at 509 E. Edison Ave., formerly the site of an eatery, the Golden Coin, to be transformed into a restaurant and dance hall combination. The project is valued at $286,108. Applicant Francisco Mendoza of Mabton also sought and received permission to apply stucco to the brick building. That part of the project is valued at $8,000. City of Sunnyside coffers received a combined total of nearly $3,500 for the proposed restaurant/dance hall makeover.
A total of 22 new building starts got the thumbs up in September from city hall. They have a combined total value of $870,842 and generated $13,203 in permit fees.
Among the other large projects given the go ahead are two new single-family homes with a combined total value of just over $350,000. The two new houses generated a little more than $5,000 in permit fees for the city of Sunnyside.
City planners also approved five re-roofing projects in September that have a combined value of about $20,000.
Compared to a year ago, the city's permit statistics show a marked decline in new building starts. In September the city issued 64 permits, compared to 318 issued in September 2007.
While much of that decline can be attributed to a 90 percent drop in permits related to code enforcement-from 245 in September 2007 to 22 last month-permit fees collected have also fallen off by two-thirds from this same point last year.
Of the permits issued last month, 29 were related to building projects and 14 for plumbing.