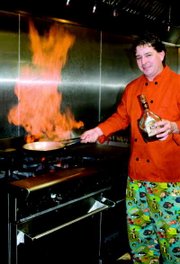 Bon Vino's Bistro chef and owner Roger Hazzard recently trekked to the TRAC in Pasco, where he donned his apron and squared off against other chefs to see who could whip up the most creative dish with a few selected ingredients.
The Chef Challenge took place a little more than a week ago and Hazzard came home with top honors.
All told, eight chefs competed in the challenge.
In Hazzard's first round, he squared off against one other chef. The top two point-earners of the eight chefs competing were allowed into the final round.
Hazzard knew one thing going in. Whatever he did, he was going to make a crepe.
"You gotta go in there with a game plan," says Hazzard.
Last year, he finished second and he believes that was due in part to the fact that he had no plan.
Hazzard was put into a kitchen with an enormous pantry, two Bunsen burners and a convection oven.
Judges then handed he and his competitor six ingredients: duritos wheels, potatoes, jalapenos, corn tortillas, tomatoes and flat iron steak.
In 20 minutes, the allotted time, Hazzard fried the duritos and made salsa with tomatoes, cilantro, kiwi, jalapeno and lime zest. He filled each durito with the salsa.
He seared the steak and used it to fill his crepe. He thinned out tortilla strips, fried them, and made a nest in the center of the plate. He made cajun potato chips out of the potatoes and laid them off to the side of the plate, laid the crepe in the nest with a dollop of creme fresh and had the ring of duritos on the side of the plate.
He was then judged on originality, taste, presentation and skill in the kitchen.
He won that round, which earned him $100.
His score was also so high, he advanced to the final cook-off.
This time, he knew there were red peppers in the pantry. He began to plan for the next round, knowing that he'd use a red pepper as a bowl.
He was then given penne pasta, shrimp, tenderloin steak, pepperjack cheese, lemon, peanut butter and squash.
He made a penne pasta salad with a sauce that consisted of balsamic vinegar, sour cream, dill and peanut butter and put it in the center of the red pepper. He then added yellow squash balls to the pasta salad. Next, he put shrimp and lemon zest on top of the pasta, but didn't mix it in. This he did for "a little better presentation, a little more color."
He seared the steak and placed the cheese on top of it, then put it in the oven to melt. He thinly sliced the steak and fanned it out on the plate.
"They had a raspberry sauce and a lime sauce that was already made, so I drizzled that around the plate," he said.
Hazzard's creations won the judges over and he was awarded $200 in the second round. His name will also go into a drawing for the chance to square off against other chefs in Spokane in April.
"I just do it for fun, to have a good time," says Hazzard.
He said he particularly enjoyed the items provided in the challenge's pantry and kitchen.
"It's nice to have all these things in the kitchen you can just go to town on! Twenty minutes goes by so fast!"