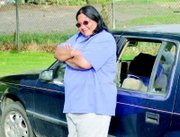 For a "month and three days" Anna Montelongo's home has been her blue-green 1994 Plymouth Acclaim.
Montelongo lives in Sunnyside, but she doesn't have a home in Sunnyside. She's homeless.
She tries to find quiet, safe places, such as South Hill Park. She's gone to Central Park but said some guys came up to her. "I don't feel safe there," she said. "I may be homeless but I'm not dumb."
Her situation is a combination of bad luck, bad health and, she readily admits, bad decisions.
The luck turned sour when a man she was living with at an area motel abandoned her. "He said we needed to find something else less expensive to rent month-to-month," she said. "He left but he never came back."
That left her, she said, with $40, the blue green car and her clothes.
Montelongo recently tried to work picking apples, but had so much back pain she had to stop.
Those poor decisions? Montelongo said it all began when she dropped out of school.
"You know how it is when you're young," she said. "I wanted to party and do my own thing. I regret it, do I ever regret it."
Now 48, Montelongo's has been a life of depending on the men in her life. That's because she says without a high school education or GED she can't get consistent employment.
She couldn't count on the men, and now her home and transportation may not be able to be counted on. "My car's transmission is starting to give out," she said. "The reverse doesn't work."
She receives food stamps, but without a home and appliances she mainly relies on a diet of sandwiches. She had five cats that lived with her at one time in the car, but she had to give them up. "I couldn't afford to feed them," she said.
She did get to stay in Salvation Army housing for a week, but that's all that could be provided, she says.
As a Native American, Montelongo says she is eligible for free medical care in Toppenish, but doesn't have the gas to get there. She'd like to visit YVCC's Grandview campus and find out what it would take to get her GED, but she says the price of gas is a problem there, as well. If she were able to get a GED, Montelongo says she'd like to get a job helping people.
The homeless life is trying for her, everyday things like taking a shower are a chore. "A friend took me to the truck stop in Granger once and I was able to get a shower there."
Then there's the mental toll.
Montelongo says she wakes up each morning wondering what she'll do that day.
She considers suicide.
"Sometimes I think I'm ready to leave this world," she said.
Yet, she is a person who enjoys conversation. A laugh, a smile, shows a desire to connect with life.
She also desires to help others, especially young people, avoid her mistakes.
"Stay in school, finish school. Get some kind of education," she said. "Don't end up homeless like me."
Montelongo doesn't have a phone-"I had one once and someone stole it"-so she has agreed to meet any who would like to get to know her and her situation next Monday, Oct. 13, from 5:30 to 7 p.m. at South Hill Park, near the community center.
You can't miss her place. Just look for the blue-green home at the end of the parking lot.