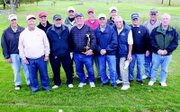 KENNEWICK - Like fine wine, the Lower Valley's elder statesmen on the links seem to only get better as time goes on. Sunnyside's Black Rock Creek team, for the second straight year, has won the Columbia Basin Senior Golf Tour championship.
The local golfers wrapped up 2008 senior tour play last week with a runner-up finish at the last stop on this year's tour...the Tri-City Country Club.
Last week's second place finish in the Tri-Cities left Black Rock Creek with a tour-best 137.5 points. A combined squad from the Canyon Lakes and Horn Rapids golf courses finished in the No. 2 spot in the final points standings, well back with 116 points.
Winning this year's tour championship was even more impressive than the title Black Rock Creek snagged in 2007, considering the local contingent this time around led wire-to-wire. The Lower Valley team won the opening tourney on this year's tour, never relinquishing the points lead after that.
Of the 12 senior tour events staged in 2008, Black Rock Creek won seven of them, which included five consecutive victories. The local golfers also recorded four second-place finishes on this year's tour.
In finishing up tour play at the Tri-City Country Club last week, the Black Rock Creek team was paced to its runner-up finish by Gene McIntire. He shot a 7-over-par 72. Teammates James Noel and Don Patteson also carded rounds under 80, posting scores of 75 and 78, respectively.
The lowest net rounds (actual score minus handicap) turned in for Black Rock Creek at the Tri-City Country Club included Perry Barnhill's 61, a 64 by Marty Drollinger, Eli Gonzales' 67 and Mike Stegeman's 68.