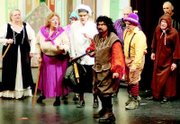 Things are not as they appear is the message of the musical "Beauty and the Beast," which this past weekend completed a run here in Sunnyside by the Over The Hill Theatrical group.
The acting troupe of players aged 50 and older visibly enjoyed romping through the words and music of the play.
Costume and set design were well done, and the musical accompaniment was top-notch.
As for the actors, Ron Jetter brought comic relief and some pretty good pipes to the role of the boastful Gaston, whose bids to woo the beautiful Belle (Barbara Davis) were cast aside in humourous and well-sung fashion by Davis.
The appropriately named Silly Girls (Debbie Mendoza, Joyce Taylor, Sheila Hazzard and Jill Shuttleworth) hovered and hung on Gaston's each word. Their giggles and cries were infectious.
Jetter and his sidekick LeFou (Tom Stegeman) drew applause and laughter-sometimes even from castmates.
In contrast, the Beast (Terry Langley) brought a suitably somber approach and a rich, deep voice to the part.
The large chorus also was in good voice and their number made for an entertaining march through the audience, culminating in a fight scene near the end of the play. The scene included the Beast kicking Gaston out of the enchanted castle, amidst applause and a slow roll down the stage steps by Jetter.
The Beast, Belle and love won out, of course, lifting the curse on the castle and its inhabitants.
One of those inhabitants was the butler Lumiere (Dave Tully). With the play set in France, Tully was one of the few players to consistently use a French accent, and he pulled it off well.
The players genuinely enjoyed playing and, judging by the applause, the crowd enjoyed their efforts.
While the effort was there, a sticking point for the players seemed to be learning the lines. Actors repeatedly had to be reminded of their lines and/or cues.
That wouldn't be a problem in dress rehearsal or in the very first performance, perhaps. But when it's the fourth of five performances and there are still problems with lines it does become a concern. After all, 10 dollars will get you into a movie with enough leftover for snacks. It should also get you a play with well-rehearsed lines.
With that said, the Over The Hill production was full of heart and desire to entertain.
It's that community spirit and pluck that makes the recently completed production a beauty, not a beast.