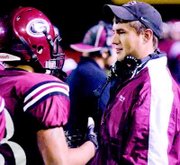 GRANDVIEW - The Grandview Greyhound special teams were indeed special this past Friday night with two kick returns for touchdowns in a 31-28 football win over visiting Ephrata.
It was the first win in CWAC South league play for Grandview (1-4, 2-4) this season.
Grandview's Viano Perez returned a punt 54 yards for a touchdown in the third quarter to put the Greyhounds up 24-6 heading into the fourth quarter.
Grandview's big lead was built on touchdown runs by quarterback Josue Oros in the first and third quarters, as well as a first quarter field goal for the busy Oros, who tallied 19 points on the night.
"We finally executed all the way through our blocks," said Greyhound Coach Jeremy Scroggins. "Our offensive line was doing a good job of communicating up front and we played much better assignment football on defense."
The result was holding Ephrata to a pair of first half field goals on the way to a 10-6 lead at the half and the 24-6 lead after three quarters.
There was no quit in the visiting Tigers, though, who responded with two quick touchdowns in the fourth quarter to suddenly make it a 24-20 game.
Perez stepped up on the ensuing kick-off and returned it 85 yards for what proved to be the game's winning points. Oros tacked on the extra point to make it 31-20 for Grandview.
The Tigers had enough gas in the tank to drive for their third touchdown of the fourth quarter and added a two-point conversion to come within a field goal of Grandview, 31-28.
That's about the time the Grandview offensive line took over and helped the Greyhounds to consume the final five minutes or so of the contest
"In the fourth quarter when they (Ephrata) started coming back we stopped playing fundamental football," said Scroggins. "We got back on track after that."
Of the big kick returns on special teams, the coach added, "I told them to stay focused and we came up with a couple of big plays."
The Greyhound offensive line cleared room for Storm Shea to run for 124 yards on seven carries. Oros carried four times for 38 yards and Jacob Massey toted the pigskin 10 times for 33 yards for Grandview. Teammate Armando Madrigal earned 21 yards on the ground on three carries.
Oros completed 1-of-5 pass attempts for seven yards. "Primarily we're just trying to find out what we need to do to attack the other team," Scroggins said of his team's reliance on running plays from the quarterback versus the pass.
Scroggins sees the win as a possible turning point for the season, both on and off the field.
"Hopefully this settles us down a little bit and hopefully the kids continue to buy in to what we're doing in practice," said Scroggins. "And that will make a positive impact on the community. For me, it was a bigger win than just football. The community was there and needed to see the kids staying positive and going through adversity and still carrying themselves appropriately."
East Valley comes to town this coming Friday for Grandview's homecoming.
The coach said his team still needs to learn the little things to help sustain the momentum from last week's win.
"We still need to learn our routes, finish our blocks," he said. "We had two or three dropped passes (against Ephrata) and we cannot have that. We had some special team play that allowed us to get by that one."
Rod Smith/Daily Sun News
Grandview's Viano Perez (8) rushes upfield for the first of two kick returns for touchdowns to help the Greyhounds to a 31-28 win.