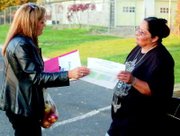 Immediate help in the form of fruit, gas cards and care packages were delivered last night to Anna Montelongo, a homeless Sunnyside woman.
Perhaps more importantly, the Monday night visit at South Hill Park gave Montelongo some tools to hopefully pursue her goal of gaining a GED and a job.
"It makes me feel good that someone cares," she smiled.
One of her visitors yesterday, Delores Gonzalez, brought the gas cards, which were provided by her son and daughter. Gonzalez also gave Montelongo information about a GED placement test that's happening at 6 p.m. today, Tuesday, at YVCC's Grandview campus.
Another visitor, Frances Potts, brought some supplies for her, as well as information about community connector transportation that Montelongo can take. The transportation can get her to medical care in Toppenish, to the Grandview campus or to Yakima for possible employment in day labor.
Also, over the weekend Montelongo said someone provided a room for her at a local motel to at least help her have one night out of the cold.
Speaking of housing, Montelongo also received information last night about the Sunnyside Housing Authority and the services it offers.
A follow-up time for those who would still like to meet and help Montelongo will be available this coming Thursday, Oct. 16, at the Daily Sun News office.
The help Montelongo received last night is already making a difference.
Later after her visitors left last night, she let out a big smile and said, "I'm not contemplating suicide anymore.