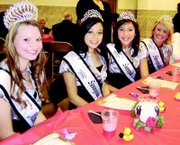 This past Sunday evening marked the official beginning of the 2008-09 Miss Sunnyside Court with their coronation ceremony.
Miss Sunnyside Rebekah Paulakis, Princesses Avalon Valencia, Ivette Torbay and Audra Hays were officially crowned.
The ceremony opened with a welcome and prayer courtesy of Nick Paulakis. Outgoing Miss Sunnyside Antassia Hammond provided entertainment by strumming her viola.
The coronation ceremony also included the official induction of Miss Sunnyside board members Chris and Lori Gardner. Outgoing board member Yolanda Phillips was awarded an Italian Cup trophy in recognition of her three years of service to the program.
The Miss Cinco de Mayo court, comprised of Queen Jazmine Salmeron and Princesses Margarita Manzo, Rubi Chavez and Daniela Ramos, were on hand for the festivities, as was "princess for a day" raffle winner Jolissa Mendoza.
"The purpose of the coronation ceremony is to symbolically have the outgoing court place the official sashes on the newly crowned court," said Miss Sunnyside organizer Teri Alvarez-Ziegler.
The newly crowned court also received plenty of gifts to herald in their reigning year, including unlimited tanning for a year at Carpelli's Salon in Grandview, luggage, crown cases, earrings, pony tail holders, cookie cutters, embroidered blankets and purses.