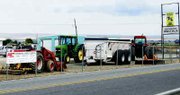 After serving the Lower Yakima Valley agricultural community for two years, Farmers Equipment Company on Factory Road has found itself in need of more space.
According to Branch Manager Jon Hayter, the company opened the Sunnyside branch under the banner of its resources and environmental equipment division.
It served the waste management needs of local farmers and dairymen, but found equipment such as anaerobic digesters weren't the only equipment needed in the region.
"We rolled irrigation products into the local business, as well," Hayter said, stating the primary focus of the Sunnyside branch was products dealing with water and its cleanliness.
As word spread that Farmers Equipment Company was in the local market, he said the demand for other products and equipment grew...those items are typically sold through other divisions of the company.
Because of the increased demand for large equipment, such as forklifts and tractors, the current location has been outgrown.
Fortunately for the company, Blueline recently vacated its location across the road. "The property is larger and would help our branch with necessary growth," said Hayter.
After looking at the property, Farmers Equipment Company was able to reach an agreement with the former owners of the Blueline property. Hayter said Farmers Equipment is in the process of redecorating the interior of the buildings on-site and has plans of being completely relocated to the site as of the middle of November.
He in part attributes the quick growth and success of the Sunnyside branch to employees like Kirk Oswalt, who is from the Sunnyside area.
"He has connections to the local community and has generated a significant number of customers to the business," said Hayter.
With the new location, he said Oswalt and other employees of Farmers Equipment will be able to sell parts, equipment and provide service to the firm's customers.
"Currently, we are limited in what we can carry," said Hayter, stating sales of farm equipment were provided via catalog. Now, a customer will be able to see the equipment on-site and he couldn't be more pleased.
He said the company has been in business for approximately 75 years. Based in Lynden, the owners have adjusted and expanded to meet the needs of the agricultural community throughout the years.
As a result there are three divisions to the company. Those divisions are ag equipment, construction equipment and material handling.
However, adjusting to the market is what the company does well, and Hayter said that is why the Sunnyside branch will encompass products from more than one division.
"It is great...the reception we have had from the local community. Things are changing more quickly than we anticipated, but that is a good thing," he commented.
Jennie McGhan/Daily Sun News
Farmers Equipment Company is in the process of preparing the property formerly occupied by Blueline for a mid-November opening.