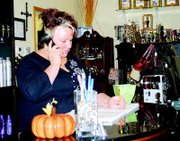 GRANDVIEW - Grandview now has a place that offers all a person could desire for their personal image.
Carpelli's Salon and Tattoo Company, owned by Tammy and Krystal Leyendekker of Mabton, opened last Thursday.
The full-service salon isn't like any other in the Lower Valley since customers can have more than their hair cut and nails manicured.
Tammy said permanent make-up, air-brushed temporary tattoos, henna tattoos, body piercings, tanning, spray tanning, a dry sauna, facials and mud wraps are all available at Carpelli's. She has a massage area, but still needs a licensed massage therapist.
"We currently have 11 employees. Four of them are stylists," said Tammy, stating the new one-stop, quick-shop was established with both men and women in mind.
She said the tattoo artists, including herself, have a wide variety of artistic talents. Dave Gonzalez, Pete Compian and "Kerm" Navarro are trained to provide customers with body art that fits the lifestyle and desires of the individual.
The business even features specials to assist customers with budgeting needs.
Tammy said the name Carpelli's came about after much thought and research into something unique. "It means hair in Italian," she laughed, stating many sleepless nights were spent deciding the business name.
Because she already had an established clientele, Tammy said Grandview was a natural fit for her new business endeavor.
She explained the reason for moving from her prior place of business saying, "I needed more space than I had before."
In addition, Carpelli's is a Paul Mitchell Signature Salon.
Tammy said she is scheduling special guest tattoo artists every couple of months to complement the tattoo services at the business.
"Dave Hartman from 454 will be here hopefully the first week of December," she said, stating Hartman specializes in portrait tattoos and is currently on a European tour.
Carpelli's is open Monday through Friday from 9 a.m. to 7 p.m. and Saturdays from 9 a.m. to 5 p.m. "We do tattoos on Sundays by appointment only," Tammy added, stating customers interested in an appointment are to call 882-1907.