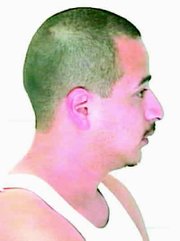 On July 29, 2007, Veronica Ayala, a mother of six, was gunned down at her Sunnyside home. The man suspected of committing the crime, Erik Flores of Grandview, has yet to be brought to justice.
Sunnyside Police Detective John Chumley said the lion's share of the investigation into Ayala's death is complete, with the cause of death being a single shot to the head.
In investigating the shooting, Chumley said police collected enough evidence to determine Flores caused the murder of Ayala. Just two days after the killing, Flores was charged with second degree murder and first degree unlawful possession of a firearm. A warrant was then issued for his arrest.
Since then Chumley said police have been working on leads, trying to develop information on where Flores might be.
"We believe he fled the state after the murder," Chumley said.
The case has garnered interest from the U.S. Marshall's Office, where a reward is being offered for information on Flores' whereabouts. Chumley believes the amount of the reward is $2,500.
Anyone with information on the whereabouts of Flores is encouraged to call Sunnyside police at 509-836-6200.