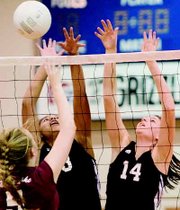 It was a case of close, but not quite close enough, as the Sunnyside Lady Grizzly volleyball team lost a hard fought match to Moses Lake last night, 25-21, 25-18, 25-19.
Sunnyside played its best volleyball of the season in the Tuesday night home match.
"Moses Lake played well," said Sunnyside Coach Mikal Aberle. "They were a very scrappy team, they dug everything."
The first-year coach praised the play of her team.
"My girls played really well," Aberle said. "We had high intensity. We hit a lot better this game and blocked a lot better."
With that said, there's still room for improvement.
"We made some crucial errors at crucial times in the match," Aberle said. "We missed some important hits and we didn't side-out fast enough to gain points to catch up. I am proud of the girls for sticking with them (Moses Lake) throughout the whole match."
Sunnyside was led by Alissa Martin's 29 perfect passes and Janelle Mendoza's 21 assists. Also helping the Lady Grizzly cause was Molly Dolan with seven kills and eight blocks. Lani and Kiana Ramos each chipped in six kills for Sunnyside, and teammate Jackie Rodriguez had three kills.
Sunnyside (0-6, 0-7) will look to crack the win column for the first time this season at Eastmont High School this coming Thursday.
Until then, Aberle said her team is "going to work on serve-receive passing."
Rod Smith/Daily Sun News
Sunnyside's Kiana Ramos and Jill Spini (14) go up for a block during third game action last night, Tuesday, in a close volleyball loss at home to Moses Lake.