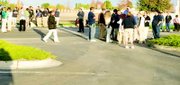 Yesterday at about 4:30 p.m. an unknown male called the Sunnyside Wal-Mart and made a bomb threat to the store.
In accordance with the store's management policy the building was evacuated. During the search, nothing suspicious was found.
At about 6 p.m. Wal-Mart's management team made the decision to re-open the store.
This incident is currently under investigation at this time. Anyone with information regarding this case should call the Sunnyside Police Department at 836-6200.