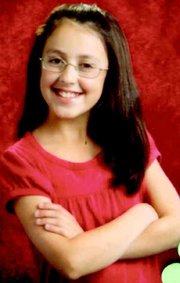 GRANDVIEW - Just one quick swipe in the mouth with a cotton swab. That's all it takes to find out if you have the power to save the life of someone who's suffering.
Maybe even someone like Joselina Wacenske, a Grandview sixth grader who suffers from aplastic anemia.
"Her disease has relapsed and it looks like finding the perfect bone marrow or stem cell donor might be her best option for survival," says Cristina Klatovsky, who is organizing a two-day bone marrow drive in hopes of finding a match for the middle-schooler.
Wacenske was first diagnosed with the disease, a life threatening bone marrow disease, when she was three years old. After a period of remission, she has now relapsed, says her mother, Thelma Romero.
Romero says that since her daughter first became ill, she's been taking a medication that can cause toxicity. Wacenske, who's been taking the medicine for years, "simply stopped responding to it."
In fact, following a routine blood test this past summer, doctors found the results so alarming they took her from the Sunnyside hospital to Seattle by ambulance. There, Romero says, doctors at Children's Hospital told her they'd never had a young patient take that particular potentially toxic medication for so long.
Now, Romero says, they've upped the dosage and will hospitalize Joselina if she doesn't show improvement by December.
What's particularly discouraging, Romero says, is that back when Joselina was first diagnosed and discussions took place about a potential bone marrow transplant scenario, she was told that only 60 to 70 people in the world are potential matches for her daughter. This time around, she was told the same thing.
That bothers Romero because it indicates a reluctance on behalf of potential donors.
Come this weekend, Oct. 18-19, Romero's going to take a shot at turning that around.
That's when an Inland Northwest Blood Center bone marrow registry drive will be underway at the Grandview Market, where Romero works.
Signing up is easy. With a willing heart and commitment to donating if a person needing a life saving match is found, as well as a quick swipe of the inside of your cheek, sign-up is complete.
And it's free, thanks to a grant from Legends Casino, which is paving the way for donor registration from 5 to 8 p.m. this Saturday and 10 a.m. to 7 p.m. the next day.
According to marrow program director Dr. Ellen Klohe, people who need bone marrow transplants need to have their diseased blood forming cells replaced by those from a healthy donor.
"These blood forming cells are also known as blood stem cells, but these are adult blood stem cells that can only mature into blood cells and not the same as embryonic stem cells that could potentially develop into another human being," Klohe said.
She added that the blood forming cells reside in the bone marrow and there are two ways to collect the blood forming cells used for transplant. The first is by collecting bone marrow and the other is by collecting peripheral blood stem cells.
Klohe said the transplant center requests the donation method that is best for the patient, but 10 percent of requests are for bone marrow collections and 90 percent are for the peripheral blood stem cell method.
What's the difference?
According to information provided by Klohe, marrow donation is a surgical procedure and the donor receives anesthesia. Doctors use special hollow needles to withdraw liquid marrow from the back of pelvic bones. Many donors receive a transplant of their own blood.
Following the procedure, the donor can expect to feel some soreness in the lower back for a few days or longer. Most donors go back to their routines in a few days and the donor's body replaces the marrow within four to six weeks.
In the peripheral blood stem cell donation process, the donor receives daily injections of a drug called filgratism for five days before the collection. Blood is then removed from a sterile needle in one arm and passed through a machine that separates out the blood-forming cells. The remaining blood is returned through the other arm of the donor.
The side effects with this medication that could possibly occur are headache, bone or muscle aches for several days before the procedure, which is caused from the medication. These effects disappear shortly after the collection.
Both procedures will include annual calls for long term follow up.
Simply put, neither potentially life saving procedure sounds all too painful and that's the word Joselina's mom is trying to spread.
"It's worth saving a life," she said.