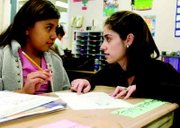 Gema Aja and Mercedes Escano consider themselves lucky. They are just two of 23 Spaniards currently in the United States doing what they're doing.
Aja and Escano are in Sunnyside for the 2008-09 school year working as language and cultural assistants. The two were selected by the Spanish Ministry of Education and Culture.
Why travel thousands of miles to teach at a school in a foreign country?
"It's a great experience for us," Aja said. "It will help us to get a good job back in Spain."
Aja had done something similar in Norway for a year and had a good experience with it.
"I thought, I'm too young to work so why not," she added.
She thought if she didn't do it now she might not get another opportunity.
Escano agreed with the experience part of it.
"It's a great opportunity to improve my resume," she explained.
She also said she has always wanted to come to the U.S. and she'll be able to improve her English, as well.
Both are hoping this experience in Sunnyside will help open doors when they return to Spain.
Both are working in elementary schools in Sunnyside.
Aja is working in classrooms with students who might have a language issue. Escano is working with Spanish language and culture enrichment at Chief Kamiakin Elementary School. She also will work with an after-school program in Outlook, concentrating on the Spanish side of a dual-language program.
They've only been in Sunnyside for a week but so far both have enjoyed their experiences.
"I like it, it's completely different from Spain," Aja said. "You have lots of materials and technology in your schools."
She said in Spain the resources are not as vast. She was also surprised how many schools here are bi-lingual. In Spain, she said, most bi-lingual schools are private.
Escano likes it as well. She likes her job and believes it will be interesting and very useful for her.
"It's nice to be abroad teaching people," she said.
"And teaching our culture," Aja added.
Although both are having a good time they still miss some of the comforts of home, mainly their Spanish food and family. They also miss their afternoon naps.
They both are interested in other cultures but they are Spanish first. In their home country it is common for people to take a two to three-hour lunch. During that time 30 to 50 minutes are spent napping.
- Corey Russell can be contacted
at 509-837-4500, or email
CRussell@DailySunNews.com