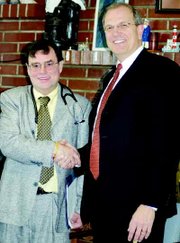 Sunnyside's Dr. Ronald Couturier, DO has earned recognition through Premera Blue Cross for his work in dealing with chronic care patients.
Couturier was visited yesterday by Dr. Dave Johnson, Premera's regional medical director.
Johnson sat down with Couturier to discuss why he was selected to be honored at a Quality Awards Program in Spokane on Monday, Oct. 27. Couturier will not only be recognized for his commitment to his chronic care patients, but he will also receive a financial award of $10,000.
Couturier is only one of 32 recipients in Washington state to receive the recognition.
Yesterday, Wednesday, Johnson told the Sunnyside physician that in his category, he ranked eighth out of 154 practices in dealing with health care issues patients face, such as asthma, coronary artery disease and diabetes.
"What we're really looking at is that the tests people need are getting done," Johnson explained.
To even be considered for the award, Couturier had to be consistently treating 15 patients in the chronic care category, ordering the appropriate tests necessary for quality patient care throughout the year.
Johnson noted 91 percent of Couturier's patients were being ordered the appropriate tests. The national average, he said, is that only 80 percent of patients are ordered the appropriate tests.
"As our population is aging, it's more and more important that everybody get their (tests) done," said Johnson.
Johnson praised the Sunnyside doctor's working quarters. "You've got everything in this clinic," he said. "It's a beautiful example for how family medicine should be run."