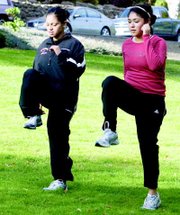 YAKIMA - It may have been the Davis Pirates who came out on top in yesterday's boys and girls cross-country races, but it was the Sunnyside Grizzlies who slashed major chunks of time off their clockings from less than two weeks ago on the same course.
The Big 9 League staged its final conference competition of the season prior to postseason play yesterday at Yakima's three-mile Franklin Park course. The Davis Pirates secured the top spots in both the boys and girls races at the six-school meet.
On the boys side, it was the Pirates' Emmanuel Contreras cruising to the finish line first, recording a time of 15:38.12. He finished a full 21 seconds ahead of the runner-up, Walla Walla's Aaron Nelson.
Shawna Schooley and Sandra Martinez gave Davis a one-two finish in the girls race. They hit the tape in times of 18:29.48 and 18:38.05, respectively. Pasco's Marisa Vander Malle was a distant third in 19:07.73.
The top placer for Sunnyside in the girls race was sophomore Jocelyn Yanez. She placed 16th in the 44-girl field with a time of 20:23.60.
Senior Jacob Rogers was the Grizzlies' fastest runner in Thursday's boys race. He placed 13th with a clocking of 16:45.61. A total of 46 boys competed in the varsity run.
Across the board for Sunnyside yesterday, individual times were pared considerably from the clockings the Grizzlies posted just 12 days ago at the Franklin Park Sunfair Invitational.
Those improvements for the Sunnyside boys included Rogers cutting 31 seconds off his time, Jose Sanchez lowering his time by 26 seconds to 17:16.32, Gracen Gonzalez lowering his time by 33 seconds to 17:33.57, Osbaldo Arroyo lowering his time by 30 seconds to 17:58.84, Kennedy Sarmiento lowering his time by a minute and two seconds to 18:17.56, and Patrick Watts lowering his time by five seconds to 18:32.54.
For the Sunnyside girls yesterday, Marlene Manzo showed a 20-second improvement from 12 days ago with her 22:29.25 clocking. Also recording faster times yesterday afternoon than the clockings they had back on Oct. 4 were Sarasa Partida, who lowered her time by a minute and 22 seconds to 24:11.40; Daisy Rodriguez, who dropped her time by a minute and 10 seconds to 25:07.62; and Noemi Salmeron, who slashed a minute and 34 seconds off her previous clocking to 25:32.67.
Sunnyside's cross-country team will enter postseason play next Thursday, Oct. 23, at the District meet, to be hosted by the Hanford Falcons. The top runners from that competition will advance to Regionals on Saturday, Nov. 1, which will be hosted by the Richland Bombers.
&nbsp