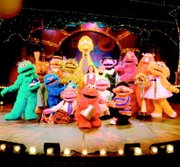 YAKIMA - Many musical groups have come to Yakima and the surrounding area but not one full of monsters.
That's about to change Tuesday, Dec. 9, and Wednesday, Dec. 10, when Sesame Street Live presents "Elmo Makes Music", at the Yakima SunDome.
The show on Dec. 9 will be at 7 p.m. There will be two shows on Dec. 10, one at 10:30 a.m. and the other at 7 p.m. Tickets for all three shows go on sale Monday, Oct. 20, at 10 a.m.
The show centers around Jenny, an enthusiastic new music teacher who arrives on Sesame Street only to discover her instruments are missing.
Jenny's new Muppet friends quickly come to the rescue and discover 'instruments' they never knew existed...rubber duckies, trash can lids and even cookie jars. Elmo and friends teach children that everyone can make and enjoy beautiful music together.
Through the razzle-dazzle of this musical Broadway-quality production, children learn about patience, acceptance and teamwork.
Adults will appreciate the high-tech stagecraft, cleverly written scripts and music they'll recognize and enjoy sharing with children, such as The Hustle, You Should Be Dancing and Rockin' Robin.
Elmo Makes Music features nearly two dozen songs, including classics that children will love to sing along with such as C Is For Cookie and The Alphabet Song.
Tickets cost $12 and $16. A limited number of $20 premium seats and $25 Gold Circle seats are also available. Additional fees and discounts may apply.
For more information call 509-248-7160 x-121. To charge tickets by phone call TicketsWest at 1-800-325-SEAT. Tickets may also be purchased online at www.ticketswest.com.