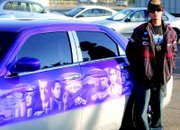 LAS VEGAS - Ray Anciso Jr. of Sunnyside recently defended his national best in show title during a super low rider car show in Las Vegas.
Anciso's car, a purple and silver 2002 Chevrolet 300, has Hollywood-themed murals on his car inspired by the movies Casino, Scarface, Godfather and Goodfellas.
His father, Ray Anciso, said work started on the car about three years ago. After Ray Anciso Jr. painted the car, Matt Van Wingerden painted the eye-catching murals.
The car also won best in show honors during the national low rider car show last year in Las Vegas.
In August of this year, Anciso excelled at a car show in Portland, Ore., by taking first place overall for having the best mural. That show was one of a series Low Rider Magazine sponsors around the nation each year. Winning at Portland qualified Anciso to return to Las Vegas and defend his crown.