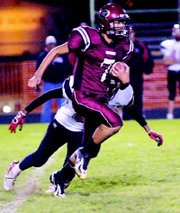 GRANDVIEW - Senior JoJo Garza couldn't have picked a better time to play his best game of the season, snaring seven catches for 124 yards and a touchdown to help the Grandview Greyhound football team to a 28-21 homecoming win this past Friday.
Visiting East Valley drew first blood, posting a touchdown in the first quarter to lead 6-0 after a missed point after try. The lead held up until the second quarter, when Grandview's Jose Lara found pay dirt with a 13-yard touchdown run. After the Red Devils scored again Garza made it a 13-13 game with a 19-yard scoring pass from quarterback Josue Oros.
"We were just able to establish more of the run game," said Grandview Coach Jeremy Scroggins. "We did a lot better job of ball control and we established some drives."
Grandview continued that momentum in the third quarter, with Jacob Massey diving in from one-yard out to wrap up a long scoring drive to put Grandview up 20-13. In a strategy switch from earlier in the season, Massey is sharing the rushing duties with starter Storm Shea and the results last Friday night were that each gained 83 yards rushing, with Massey carrying the ball 14 times and Shea toting the pigskin 23 times.
"They both bring something that's different and needed," said Scroggins. "Storm is a tough young back that can fly and make people miss in the open field. Massey's a little bit bigger and when he gets his shoulders square it's more weight to bring down."
East Valley was tough to keep down, and battled back early in the fourth quarter with a touchdown and two-point conversion to lead the homecoming game 21-20.
The 'Hounds weren't fazed.
"We practice all week on two minute drills. I haven't been around this team long, but there's a sense of calmness about them in these situations," the first year coach said. "That's nice to see."
Grandview had plenty of time to rally for the game winner, but it wasn't until with about four minutes left in the contest that Massey scored the deciding touchdown with a four-yard rumble into the end zone. The clutch score was set up with a 40-yard reception by Garza.
"JoJo played exceptionally well on both sides of the ball. At outside linebacker he played very well within our system and had a lot tackles," Scroggins said of Garza, a senior. "He's been kind of quiet this season, but he came out of his shell Friday. He made some big catches for us on offense and he was an animal on defense."
Directing the Grandview air attack was the quarterback Oros with 9-of-14 passing for 132 yards and the touchdown toss to Garza. Vi Perez had two receptions for Grandview for 12 yards.
It marked Grandview's second consecutive win and a turning point in the Greyhound passing game, which has been plagued at times this season by quarterback injuries and dropped passes.
"The kids just played better fundamentally. They caught the ball when it was thrown to them and (quarterback) Josue just played with more confidence," Scroggins said. "It's about more than football, it's about life and the pride they wanted to carry and show to the young kids there (in the stands)."
A product of the 1A Royal High School football powerhouse, Scroggins is accustomed to winning. There's work to be done, but Grandview's getting there. "The big thing is that the kids have the belief in each other," he says. "They trust the person next to them is going to do the job."
Grandview (2-4, 3-4) plays at Quincy this coming Friday. Scroggins said until then, his team is going to work on tightening up the defense, which for the second straight game gave up three touchdowns. "We need to work on tackling and not giving up on our assignments," he said.